Anthony Stewart Head
(Rupert Giles)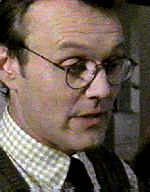 Anthony Stewart Head has enjoyed a successful acting career in his native England for many years, but it was a popular series of coffee commercials that brought him his greatest recognition in the United States. Head starred as the intriguing romantic lead in a dozen Taster's Choice commercials, each tracing the budding romance between two neighbors who share a love for the same coffee.
Head, who was born and raised in Camden, London,England stars as Rupert Giles, the Watcher of Buffy and in many ways, the nucleus of the Scooby Gang.
Before "Buffy, Giles spent a lot of his acting career in the West End Theatre doing various productions including "The Rocky Horror Picture Show," "Julius Caesar," "The Heiress," "Chess," Peter Shaffer's "Yonadab" at the Royal National Theater, and "Rope."
Head divides his time between his homes in England and in Los Angeles.