Buffy Summers
(Sarah Michelle Gellar)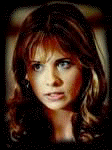 Sarah Michelle Gellar ,a Emmy Award-winning actress, is a veteran of television, theater and the big screen, having worked since she was at the age of 5. As well as starring in "Buffy the Vampire Slayer," Gellar starred in two feature films last season and recently launched a new role as a spokesperson for Maybelline cosmetics.
In March of 1999, Gellar starred with Ryan Phillipe and Selma Blair in "Cruel Intentions," a modern-day retelling of "Dangerous Liaisons" set in Manhattan. A major departure form her role on "Buffy the Vampire Slayer," she portrayed a conniving manipulator who wished and enjoyed to destroy the life of anyone who gets in her way. She also appeared last season in the romantic comedy "Simply Irresistible " , which also starred, "The Young Indiana Jones" Sean Patrick Flanery
In 1998, Gellar starred in two feature films written by Kevin Williamson , the writer of Dawson's Creek­ the blockbuster hit "Scream 2" and "I Know What You Did Last Summer." She won a Blockbuster Award for Best Supporting Actress for her role in "I Know What You Did Last Summer" and was also nominated for an MTV Movie Award. which In my view, she should have won as she really stud out. The film also starred Ryan Phillipe and Jennifer Love-Hewitt. Having an all star cast of youth and talent, this film is really one film to see.
Gellar also starred in a Toy Soilders, starring Tommy Lee Jones as the voice of one of the dolls.
Her work in "Buffy the Vampire Slayer" requires adeptness in the martial arts, a challenge that Gellar has been devoted to since before landing the role. Having studied Tae Kwon Do for four years and earning a brown belt, Gellar spends her free time continuing her training with the series' stunt coordinator.
The versatile actress won an Emmy Award in 1994 for her role on the daytime drama "All My Children."
Sarah is currently working on, besides Buffy the Vampire Slayer, the new Scooby Doo film/
A New York native, Gellar currently lives in Los Angeles.