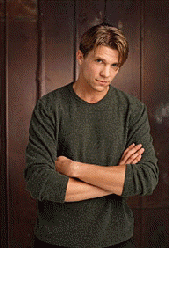 Marc Blucas has had the rare opportunity to come within reach of two lifelong dreams: playing professional basketball and achieving Hollywood stardom with feature film roles and a recurring role as Buffy's (Sarah Michelle Gellar) new love in the last series of Buffy "The Vampire" Slayer.

Born and raised in a small Pennsylvania town, Blucas' storybook childhood was centered on his talent for playing basketball, a gift that brought his high school team two state championships and earned him a scholarship to Wake Forest University. An Academic All-American and starter on the Division I team, Blucas graduated with a degree in business and communications.

After playing professionally for a year overseas, he left his hoop dreams behind and turned his focus to acting. Yet, it was his prowess on the basketball court that landed his first acting role, starring with Whoopi Goldberg in the basketball-themed feature film "Eddie."
Is first big hit was Starring along side an all star cast in the film "Pleasantville".
In his Spare time, Blucas is a referee for the youth baskeball division in Los Angeles. This is Blucas's last season in Buffy "The Vampire" Slayer.