Alyson Hannigan
(Willow Rosenberg)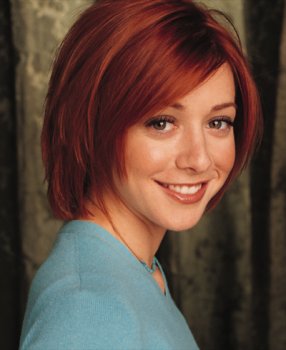 On "Buffy the Vampire Slayer," Alyson Hannigan plays a shy but intellegent wallflower who becomes Buffy's best friend. In real life, Alyson is a veteran actress who has been performing since the age of four and recently garnered rave notices for her break-out performance in the big-screen comedy "American Pie."

Born in Washington, D.C., Hannigan moved with her family to Atlanta,Georgia at the age of 2. She began her career acting in commercials, such as McDonalds and Oreo Cookies. At the age of 11, she moved to Los Angeles in hopes of breaking into the spotlight.

Her breakthrough role came when she was cast as Dan Aykroyd's misunderstood daughter in the feature film "My Stepmother Is An Alien", also starring Kim Bassinger. She also appeared in the that hillarious film starring Tom Everett Scott, "Dead man on Campus".

Alyson Hannigan has starred in "Buffy the Vampire Slayer ever since it started but has also had one-off performances in big screen TV Sitcoms such as "Roseane"

In her free time, Hannigan enjoys an active life, including playing football (Soccer), surfing the web (mmmh sounds familar to WIllow), kickboxing, and devoting a great deal of time to her two dogs and three cats. She currently lives in Los Angeles.